Gothic Arch Greenhouses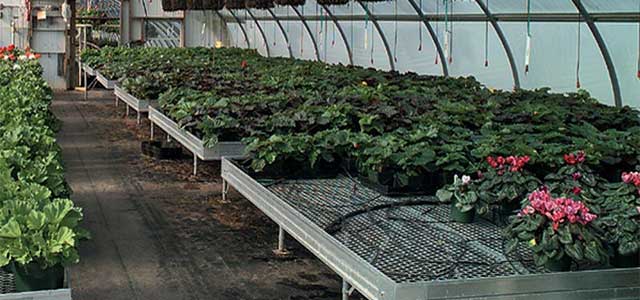 Commercial Stationary Greenhouse Benches
Commercial Stationary Greenhouse Benches come in rolling tabletop and stationary styles and can easily be connected to run the entire length of a commercial greenhouse. Ideal for bench-top crop growing, plug growing, production applications, nursery applications, product displays, retail garden center applications, and research facility applications.
Frames are manufactured from 1.25", 14-gauge galvanized structural steel with extruded aluminum 4" side rails and soft, finished corners for attractive appearance and worker safety.
Durable, economical and efficient for any greenhouse application.
Assembled with stainless steel fasteners and topped with durable expanded metal.
Rolling tabletop benches are designed to easily move to the side, creating alley ways ideal for nursery and greenhouse workers and also increasing growing space.
Made in the USA.
Multi-Level Benches create additional space to display plants without increasing the bench's footprint. All Multi-Level Benches come with a 24" top tier.
Benches are 32" tall.
For a custom-designed system*, available in quantites of 10 or more, contact your knowledgeable Greenhouse Specialist at extension 1265.
*Customization options include: customized lengths and widths, adjustable leg and table leveler, rolling tabletop bench with anti-tip connection, and multiple levels.
Options
Pricing
Specifications
Support
Accessories
Options Standard Size

Stationary Greenhouse Bench - 2'W x 8'L
Stationary Greenhouse Bench - 2'W x 10'L
Stationary Greenhouse Bench - 2'W x 12'L
Stationary Greenhouse Bench - 4'W x 8'L
Stationary Greenhouse Bench - 4'W x 12'L
Stationary Greenhouse Bench - 5'W x 8'L
Stationary Greenhouse Bench -5'W x 10'L
Stationary Greenhouse Bench -5'W x 12'L
Stationary Greenhouse Bench- 6'W x 8'L
Stationary Greenhouse Bench- 6'W x 10'L
Stationary Greenhouse Bench- 6'W x 12'L

Pricing

Model #
Description
Prices
Buy Now
 
F01-PSGB-0208
Stationary Greenhouse Bench - 2'W x 8'L 
--
Call to Order
F01-PSGB-0210
Stationary Greenhouse Bench - 2'W x 10'L 
--
Call to Order
F01-PSGB-0212
Stationary Greenhouse Bench - 2'W x 12'L 
--
Call to Order
F01-PSGB-0408
Stationary Greenhouse Bench - 4'W x 8'L
--
Call to Order
F01-PSGB-0410
Stationary Greenhouse Bench - 4'W x 10'L
--
Call to Order
F01-PSGB-0412
Stationary Greenhouse Bench - 4'W x 12'L
--
Call to Order
F01-PSGB-04508
Stationary Greenhouse Bench - 5'W x 8'L
--
Call to Order
F01-PSGB-0510
Stationary Greenhouse Bench - 5'W x 10'L
--
Call to Order
F01-PSGB-0512
Stationary Greenhouse Bench - 5'W x 12'L
--
Call to Order
F01-PSGB-0608
Stationary Greenhouse Bench - 6'W x 8'L
--
Call to Order
F01-PSGB-0610
Stationary Greenhouse Bench - 6'W x 10'L
--
Call to Order
F01-PSGB-0612
Stationary Greenhouse Bench - 6'W x 12'L
--
Call to Order

Specifications N/A

Support

If you need additional technical support or have a question, we can be reached 8:30 AM to 5:30 PM central time, Monday through Friday at:

Phone: 800-531-4769 (toll-free US and Canada) or 251-471-5328

FAX: 251-471-5465

E-mail: info@gothicarchgreenhouses.net

Recommended Accessories

N/A