Corrugated Polycarbonate
Greenhouse Covering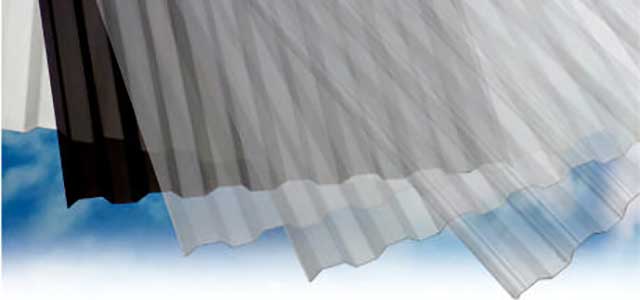 DYNAGLAS Corrugated Polycarbonate is available for any commercial greenhouse application in multiple tints, including clear, SolarSoft™, white/opal, and solar gray. DYNAGLAS polycarbonate sheets offer all the benefits of polycarbonate glazing, such as high impact resistance, excellent durability, and 99.9% UV blocking. DYNAGLAS Corrugated Polycarbonate PLUS features built-in condensate control that carries a 10-year warranty.

You may be thinking about re-covering your greenhouse with DynaGlas Corrugated Polycarbonate Plus but haven't found a convenient, cost-effective way to do the job. Well, your search is finally over. Palram's patented DrainAway® Greenhouse Re-Covering System is designed to make the job easy and to keep it within your budget.

The DrainAway System is an aluminum System designed to easily and cost-effectively facilitate the recovering of any greenhouse, whether glazed with glass, rigid plastic, or poly film. Whether it was built last year, or last century.

Plus, DrainAway equips your greenhouse with a complete condensation collection & removal System. Give us a call and together with your nearest Authorized Dealer we'll put together a quote and provide detailed drawings for your application. We'll make you fall in love with that old greenhouse all over again.

Features at a Glance
Up to 92% light transmission (clear)

Blocks out UV & far IR radiation

Virtually unbreakable

UV2 available ( UV protection on both sides)

Flexible and easy to install

Wide service temperature range-40° F to +212° F (-40° C to +120° C)

Light-diffusing SolarSoft™ available

49.6" and 73.6" widths available

Retains its clarity and properties for many years

10-year warranty against yellowing

10-year condensation control warranty

5-year hail warranty
Technical Specifications
DynaGlas Specifications and Installation Guide(PDF)

DynaGlas Technical Specifications(PDF)
Prices
Model
Color
Widths
Prices/sf
Buy Now
G04-GCP-CL
Clear
50" & 74"
Call for order
G04-GCP-SS
Solarsoft
50" & 74"
G04-GCP-OP
Opal
50" & 74"
G04-GCP-SG
Solar Gray
50" & 74"
Call 1-800-531-4769 if you have any questions! Please call for inquiries on volume purchases.
Accessories
| | | | |
| --- | --- | --- | --- |
| Model | Description | Prices | Buy Now |
| G04-GCP-AH | Horizontal Closure Strips.Size:3'L | $2.14 | Call for order |
| G04-GCP-AA | Arch Contour Sealer.Size:25'L | $10.00 | |
| G04-GCP-AW1 | Woodmate Screw #10 x 1" Size:1" | $0.15 | |
| G04-GCP-AW1.5 | Woodmate Screw # 10 x 1.5".Size:1.5" | $0.15 | |
| G04-GCP-AS1 | Self-Drilling Screw # 12 x 1" (100 per box).Size:1" | $10.00 | |
| G04-GCP-AS1.5 | Self-Drilling Screw # 12 x 1.5 (100 per box)Size:1.5" | $15.00 | |
| G04-GCP-AWD | Washers - 1" diameters (100 per box)Size:1" dia | $10.50 | |
| G02-GCP-AST | Sealant:10.3 oz. | | |
| | | | |