Blue Plastic Mulch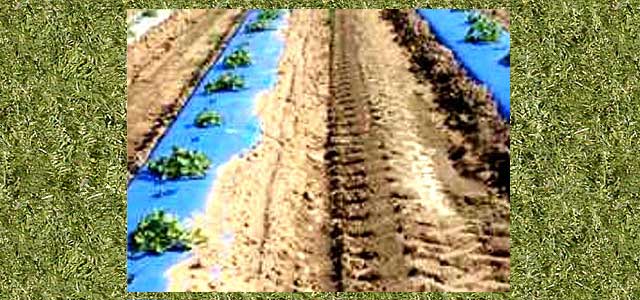 Watermelon production increases with the use of Blue Plastic Mulch film. Research test results also show a significant increase in yield with zucchini and cucumbers. On average, zucchini and cucumber yields increased 20% over a three year period.

It is the color of the mulch that changes the intensity of certain wave lengths of light that in turn has an impact on plant growth and subsequent yields. Some studies by Penn State University show boosts in crop developments up to 35%!

This blue plastic mulch is made of high quality, durable plastic that is 1.0 mil thick and lays well over flat or raised beds. It has season-long integrity and is easily removed from the field after harvest.
Advantages of using SRM-Blue Plastic Mulch
Uniform blue color for uniform field results

Almost total weed control

Reduction of soil moisture evaporation

Improved yields, although there will be variation from year to year

Easy to install and durable.

Our plastic has superior elasticity with a built in memory that hugs the bed tighter than smooth or cold post embossed films.

This hot cast film is extremely strong and elastic in all directions. In turn it sticks to the bed and will not allow heat to escape
Blue Plastic Mulch Installation Tips
Prepare soil well. It should be smooth and pliable

Do not lay paper on dry soil.

Beds should be firm

Plastic should be in close contact with the soil for maximum heat transfer into the soil.

To prevent tearing, adjust wheels on plastic laying machine so that they do not stretch the paper.

Be sure the edges of the plastic are well secured with soil.
Crops that are suited for SRM-Blue Plastic Mulch
Vegetables: Summer Squash, Cucumbers, Zucchini, Watermelons


| | | | |
| --- | --- | --- | --- |
| Stock # | Description | Sale Price | Buy Now |
| K01-SRMBU-4600E | 4' x 600' 1 Mil EMBOSSED | $59 | |
| K01-SRMR-42400E | 4' x 2400' 1 Mil EMBOSSED | $217 | |