Gothic Arch Greenhouses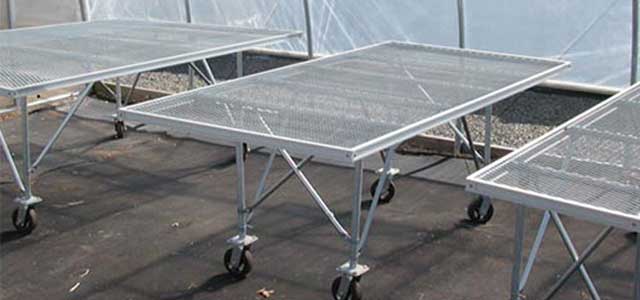 Greenhouse Bench on Wheels
REDI-GRO Greenhouse Bench on Wheels, in either white Poly-Max or expanded metal top, is ideal for greenhouses, manufacturing facilities, workshops and garages! This product is available in three sizes
Lightweight, extruded aluminum frame.
Two great bench tops to choose from depending upon your application: 13 gauge expanded metal bench top has 1-1/2" x 1" diamond openings that allow for air circulation and water drainage. The hot-dipped, galvanized finish protects from corrosive environments.
White Poly-Max bench top is maintenance free and weatherproof. Easy to clean, it makes a great addition to your workshop area.
6" heavy-duty swivel casters allow for easy moving from one work area to the next, saving you time and money./li>
Height: 35-3/4", includes casters.
Options
Pricing
Specifications
Support
Accessories
Options Standard Size

2'W x 8'L

4'W x 8'L

Pricing

Model #
Description
Prices
Buy Now
Metal Bench Top
F01-RGBW-028M
Metal Bench Top on Wheels 2'W x 8'L'
$ 606.95
F01-RGBK-048
Metal Bench Top on Wheels 4'W x 8'L
$731.95
PolyMax Bench
F01-RGBW-028P
PolyMax Bench Top on Wheels 2'W x 8'L
$581.95
F01-RGBW-048P
PolyMax Bench Top on Wheels 4'W x 8'L
688.95

Specifications N/A

Support

If you need additional technical support or have a question, we can be reached 8:30 AM to 5:30 PM central time, Monday through Friday at:

Phone: 800-531-4769 (toll-free US and Canada) or 251-471-5328

FAX: 251-471-5465

E-mail: info@gothicarchgreenhouses.net

Recommended Accessories

N/A