Greenhouse Benches
This versatile display can be used for a wide range of applications. The shallow depth makes it perfect for sidewalk displays and the included expanded metal bench tops can hold product big and small. Great for garden centers, grocery stores and convenience stores. The modular design allows unlimited lengths.
2-Tier display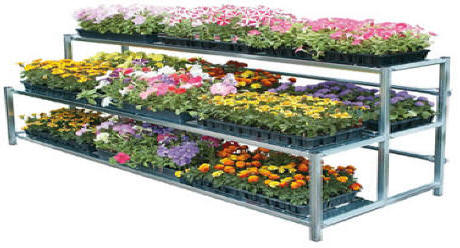 Standard Features:


Sturdy galvanized steel

Available options like casters and powder coating! It's also available in a 4' version.

Define your retail space, control traffic flow and help with loss prevention. That's just a few of the benefits of having a connected run of displays. Our patented shared end support system links the displays in unlimited lengths of solid rows.

Have a narrow space such as a sidewalk or smaller aisle? This display can hold (12) 1020-style flats or (15) with the optional lower rear bench top.

We add 20-gauge, galvanized, flattened expanded metal to our standard bench tops and you get more versatility. So go ahead, add a row of 4" pots next to that row of flats!

Quick, easy set-up with no tools required! Securely assembles using wing nuts, locking washers and thumb screws.
Model #
Description
Price
Buy Now
P01-TDB-FB3030-6
6-foot display
$233
P01-TDB-FB3030-12
12-foot display
$426
P01-TDB-FB3030-18
18-foot display
$619
P01-TDB-FB3030-24
24-foot display
$812
P01-TDB-FB3030-30
30-foot display
$1005
P01-TDB-FBA06
Additional 6-foot sections
$193

Optinal

Powder coating:

Our standard powder coating material creates a high quality finish that's sure to get attention. This oven cured, U.V. stabilized material is great for either indoor or outdoor use. Use color to create product buzz, call attention to promotional areas or coordinate with your current décor. Standard colors include Emerald Green, Red and Black. Additional colors available, please call for pricing.


Add Price: $49 / Per 6'-feet Section

Optional lower rear bench top

We add 20-gauge, galvanized, flattened expanded metal to our standard bench tops and you get more versatility. So go ahead, add a row of 4" pots next to that row of flats!



Add Price: $30 / Per 6'-feet Section
3-Tier display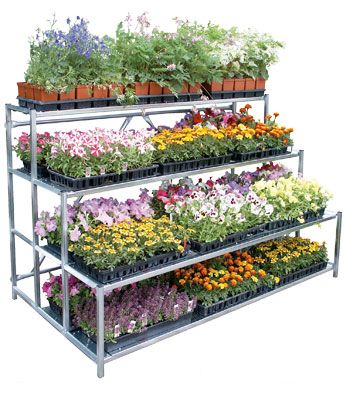 Model #
Description
Price
Buy Now
P01-TDB-FB3032-6
6-foot display
$328
P01-TDB-FB303212
12-foot display
$622
P01-TDB-FB3032-18
18-foot display
$916
P01-TDB-FB3032-24
24-foot display
$1210
P01-TDB-FB3032-30
30-foot display
$1504
P01-TDB-FBA06
Additional 6-foot sections
$294

Powder coating:

Our standard powder coating material creates a high quality finish that's sure to get attention. This oven cured, U.V. stabilized material is great for either indoor or outdoor use. Use color to create product buzz, call attention to promotional areas or coordinate with your current décor. Standard colors include Emerald Green, Red and Black. Additional colors available, please call for pricing.


Add Price: $79/ Per 6'-feet Section

Optional lower rear bench top

We add 20-gauge, galvanized, flattened expanded metal to our standard bench tops and you get more versatility. So go ahead, add a row of 4" pots next to that row of flats!



Add Price: $30 / Per 6'-feet Section
Back to Benches Page