Greenhouse Fogger TurboXE - 1000
Greenhouse Fogger
The XE-1000 (1/2HP, 60Hz) is perfectly suited for small to mid-size applications requiring 1-2 fogging fans. This model is a little quieter than the larger XE-2000, but still produces a good quality fog and is very energy efficient. XE-1000 is popular for lower volume fogging applications.
These heavy duty foggers stand out as because they can handle: humidification, chemical application, and evaporative cooling - depending on the desired application. Water lines need not be pressurized, and well or even pond water can be used without fear of clogging the special atomization system.
Unlike other fog systems, TurboXE Foggers can accept ordinary water supplies, even well or pond water without the risk of clogging. The secret is in the nozzle-free, self-flushing atomization system that forces liquids through passageways in the fan blades, atomizing as the liquid exits the blades. In addition, TurboXEs do not require high-pressure lines. Ordinary pressurized water lines are more than enough, and units can even be gravity-fed. By eliminating specialized pumps and filtering equipment, Aquafog saves time and reduces costs. The unique atomization process combined with the fan's forced circulation provides high quality fog and uniform fog distribution
Features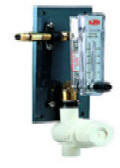 Standard-equipped with a Baldor wash-down-duty motor for strength and reliability in wet, harsh environments. TurboXE -1000-Fan Unit
Uses ordinary water and power supply to produce high quality, high volume fog.
Fans can be stationary or equipped with oscillation.
Excellent for safe, effective chemical fogging. Used for liquid pesticide and fungicide application, insecticide use and foliar feedings.
Capable of continuous duty operation.
****XE-1000 Fans are standard-equipped with a dark teal housing and a dual voltage, white epoxy painted wash-down-duty™ (WDD) motor 115/230V, 1ph, 60Hz. See "Motor Option" below for other motor options.
Also Included With Every Fan Unit
Adjustable-angle hanging bracket
Choice of visual flow meter panel with strainer
12' SJO indoor/outdoor, heavy-duty power cord
20' Poly-Flo water line tubing
16' water drainage line
100% stainless steel hardware
Easy-to-follow operator's manual