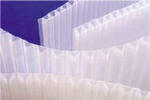 The newest greenhouse paneling material sets a new standard for durability, longevity, and ease of installation. Solexx Paneling is a sturdy twin-walled material made from an advanced formulation of polyethylene. Solexx Paneling is UV certified by an independent lab and is backed by an eight year warranty.

The unique twin-walled design of Solexx Paneling makes it far stronger than film greenhouse glazing. In

addition, the air space between the two walls creates a protective insulation barrier that keeps greenhouses much warmer that single-wall pr polyethylene film coverings. Solexx Paneling combines the light diffusion of film with the strength of polycarbonate - at a price that is about one-half the cost of expensive greenhouse coverings.

The flutes between the two layers of Solexx plastic thoroughly diffuse sunlight, creating ideal greenhouse growing conditions. Growers have reported that the resulting light is very evenly distributed, with little or no shadows created by various sized plants. Because sunlight is so evenly diffused by Solexx Paneling, solar burning is not a problem.
Two different types of Solexx Paneling are available. Standard grade Solexx XP is 3.5 mm thick. Professional grade Solexx Pro, which provides additional strength and durability, is 5 mm thick.

Solexx Paneling comes in a continuous roll that is 49.5 inches (4 feet, 1.5 inches) wide by up to 1,000 feet long, so it's easy to
apply vertically or horizontally onto your structure. Overlap the panels or use the custom H-Channel connectors where the panels meet. Customers can order the precise length of paneling they need, virtually eliminating any waste.

You can replace your old poly with the new Solexx Paneling, running the rolled twin-walled material up and over the entire greenhouse structure or running it the length of the greenhouse. Or use it for end walls and side walls.
 
How to Install "Rolled" Twin-walled Solexx (PDF)
Greenhouse Covering

R-Factor

U-Factor

5mm Solexx™ Panels

2.30

0.43

3.5mm Solexx™ Panels

2.10

0.48


R Factor - the measurement of 'insulating ability' of the material. The higher the R Factor number the greater the insulation value.

U Value - the measurement of 'heat loss' through the material. The lower the U Value the less heat is escaping. *Independent testing, Solexx™ with caulked flutes.